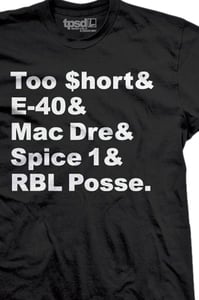 $

20.00
Few extra sizes left!
APRIL 5th, 2018 PRE-SALE ORDERS HAVE SHIPPED!
Pre-sale Reprint run! Pre-orders made by Sunday night March 25th by 9pm is guaranteed. Shirts are made to order and will ship Wednesday, April 5th or earlier. A shipping notification and tracking number will be e-mailed the night before it ships.
Inspiration: Originally released in 2014, here's my 5 favorite Bay Area Emcee's.
Shipping: All orders ship 1-3 business days. All orders (U.S. only) ship 2-3 day USPS Priority Mail with shipping confirmation included. No refunds.