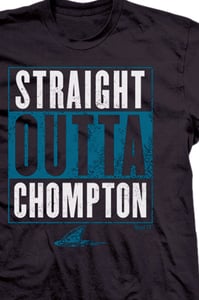 $

27.00
PRE-SALE HAS ENDED
CHOMPTON pre-sale! Originally released in 2015, this is the first time we'll be reprinting them. The HUGE plus about direct to garment printing is we don't have to do bulk printing and run out of popular sizes. These will be made to order. If we sell 10, we print 10!
Pre-orders made by Sunday night, April 22nd are guaranteed& will ship Monday, April 30th or earlier.
These men's pre-shrunk "Hanes" branded tee's are true to size.
Shipping: All orders ship 1-3 business days. All orders (U.S. only) ship 2-3 day USPS Priority Mail with shipping confirmation included. No refunds.