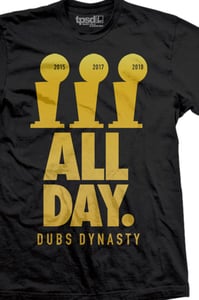 $

12.00 - On Sale
READY TO SHIP! We only did 1 print run but I ordered 2-3 of each sizes as back up.
3 Championships in 4 years: DUBS ALL DAY!
GOLD SHIMMER PRINT!
These men's Alstyle pre-shrunk tee's are true to size.
Shipping: All orders ship 1-3 business days. All orders (U.S. only) ship 2-3 day USPS Priority Mail with shipping confirmation included. No refunds.
Availability
Small - 33% in stock

Medium - 0% in stock

Sold Out

Large - 0% in stock

Sold Out

XL - 0% in stock

Sold Out

2XL - 0% in stock

Sold Out

3XL - 0% in stock

Sold Out

4XL - 0% in stock

Sold Out