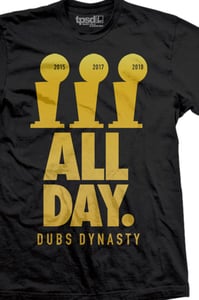 $

28.00
Pre-sale: 100 prints only. GOLD SHIMMER PRINT!
3 Championships in 4 years: DUBS ALL DAY!
Orders in by Sunday, June 10th are guaranteed and will ship Thursday June 21st or earlier. These are made to order.
These men's Alstyle pre-shrunk tee's are true to size.
Shipping: All orders ship 1-3 business days. All orders (U.S. only) ship 2-3 day USPS Priority Mail with shipping confirmation included. No refunds.