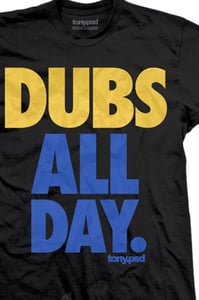 $

23.00
PRE-SALE HAS ENDED!
WE MADE OUR GOAL!
ORDER HAS BEEN SENT TO PRINTER!
PRE-SALE. Time flies... Originally released in 2013, I haven't printed this in over 2 and a half years. I've met people across the bay area that tell me they still wear this shirt to this day and they need a new one because there's is old and faded.
I'll make a deal with ya'. Let's get 30 pre-sale orders in. I'll keep the price as low as I can: $23 same as back in 2015 (the price of printing tee's is not getting any cheaper so I'll take the loss) and will waive plus size costs.
Pre-orders made by Tuesday night, May 2nd are guaranteed & will ship Thursday, May 10th or earlier.
These men's pre-shrunk "Alstyle" branded tee's are true to size.
Shipping: All orders ship 1-3 business days. All orders (U.S. only) ship 2-3 day USPS Priority Mail with shipping confirmation included. No refunds.